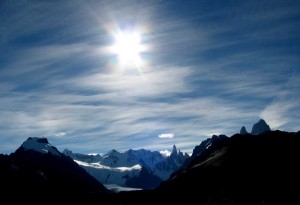 The first thing we noticed on our 3 hour bus ride to El Chaltén (north of El Calafate) is that we really didn't blend with the demographic on the bus — that would be backpackers in their early twenties from Israel! When we arrived in this small mountain village, our demographic isolation continued because we weren't serious rock climbers or well-off seniors on guided tours either! There was a notable lack of 40-something parents with kids in town…go figure!
El Chaltén sports a confluence of rivers and is an area where the steppes meet the forested reserves of Parque Nacional Los Glaciares, and it is crazy beautiful (if rather windy)! There are tons of well-marked and maintained trails that lead directly from town to the standard insane vistas that we have come to expect, nay, demand.
Added note, El Chaltén just got it's first ATM and there is one grocery store that will take credit cards, but it's still mostly an all-cash town, so bring a lot of the stuff if you are visiting.