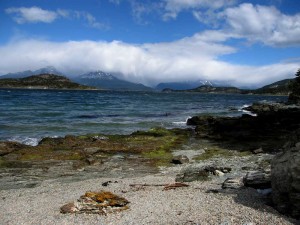 Tom: "Wanna visit a glacier?
Mich: "Nahhh, I'm kinda burned out on glaciers."

Tom: "They have boat trips…"
Mich: "Are you serious, we just got off of a boat…?"

Tom: "There's a chairlift to a glacier…"
Mich: "Glacier, done it. Chairlift up a mountain, done it."
If we had come to Ushuaia without having gone anywhere else in Patagonia, I'm sure we would have been excited to avail ourselves of the various activities available in the area. As it was, we were a tough group to inspire.
We finally settled on a 3-4 hour hike in Tierra del Fuego National Park along Lapataia Bay, ending up at Lago Roca. We're glad we were able to get our asses in gear because it was beautiful and we spotted an amazing array of birds. (On a side note, Tom and I have decided that if you want to become a birder, you should just travel to southern Patagonia and experience about 200 life birds…knock a bunch out in one trip and then call it a day!)