Posted on November 26th, 2009 in Living with 1 comment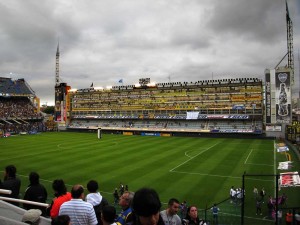 Taking a Dive. Being 43 years old and from the United States means that I was raised without any tradition of watching soccer as a sporting event. American football, basketball, baseball, boxing, skiing, Winter & Summer Olympics…all a yes. Soccer, almost never. (I had heard of Pelé and that was it.)
Perhaps this is why I have such a strong negative reaction to the rampant dive taking that takes place in the sport. Now, I know that a penalty kick can be a game changer, thus there is an incredible incentive to try to induce such a call, but I consider it to be flagrant cheating. Truly, I have a hard time getting past the feeling that they're acting like a bunch of sissies.
I also am consumed with the question of how a team can tell if one of their compatriots is actually injured, you know, for real? I currently picture players using complicated baseball-like signals, that change every game, to indicate to the coaches whether they are hurt or faking.
Short Games. The length of a soccer match (its compact nature) is to be lauded. The contests last only a few minutes more than regulation — I believe this is something from which American sport could borrow. These days, I feel like watching a baseball game requires an investment of my entire day.
The "Boring" Thing. We were at an end-of-year school dinner the other night and Tom was talking with some Argentine dads. Said fathers were discussing American sporting events that they had attended. In general, they believed baseball to be boring, which we found ironic, since "boring" is the most oft used adjective to describe soccer by Americans. Baseball and soccer actually have a lot in common — they are both competitions that are decided by low scores and require their fan base to have an understanding of the history and the art of the sport to appreciate the game.
We first experienced this phenomenon after taking some English relatives to a pro baseball game, in which we saw a suicide squeeze, an in-the-park home run, and a triple play…ALL IN ONE GAME!! Tom and I were going crazy, but my relatives didn't get it at all. You just can't explain…
Marta, Best Female Footballer. I've done my fair share of grousing on this blog about the dismal state of women's soccer in Argentina. In Brazil, it's like a whole other world. (Golly, you would think it was a different country…) They have a strong professional women's league in the Portugese-speaking nation, and the female football players get mucho respect from the men. Currently, the world's top woman player is Marta, from Brazil. She is amazing (we caught her on TV in a Brazilian league match when we were at Iguazu falls). She also plays professionally in the US. Catch a clip of her below. (Be patient, there are some great moments in the video.)