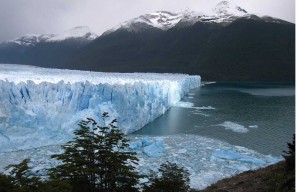 I contemplated entitling this post, "best bathrooms at a national park…" Don't worry, I won't elaborate further!
The first portion of our visit to Southern Patagonia's Glacier National Park involved spending an hour on land viewing the north and south faces of the Perito Moreno Glacier. Before arriving, we weren't expecting the lookout to be spectacular…but we should have been! It was a large area that featured an amazing network of paths and stairs that led us incredibly close to the glacier, offering many different vistas. You could easily spend hours there watching the glacier calve thunderously into the lake.
Perito Moreno Glacier stands roughly 80 meters (262 ft) tall and is 5 kilometers (3.1miles) long. It is very accessible because it is located at about 200 m above sea level and stretches out into a navigable lake. It is a part of the Patagonian Ice Fields, which are the third largest ice fields behind Antarctica and Greenland. Perito Moreno is a stable glacier, in other words, it hasn't been growing or receding.
All pictures here of the glacier were taken from the lookout.