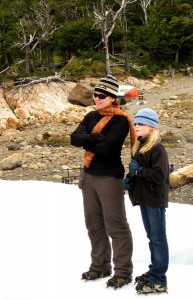 I must issue a disclaimer — I am a horrible knitter.
With that out of the way, let me tell you how I came to knitting. I decided to learn after placing two fabulous knit shops in their commercial spaces in Portland: Close Knit and The Naked Sheep Knit Shop. I approached my mother (who is excellent with all things craft) for lessons and she taught me (as well as Tom, Ian and Zoe) to knit over a Christmas vacation.
We were astonished at how hard it was to knit with a consistent gauge and we had tremendous difficulty not adding or dropping stitches. During our holiday festivities, we created abominations out of yarn, which my mother kindly labeled "fiber art."
Eventually, I achieved enough facility to start (and finish) a project — it was a scarf. I discovered too that I love to knit while traveling — bus, car, diners, planes. So, my current modus operandi is to work on easy scarf projects with interesting yarn while bumming around on sabbatical (the fancy yarn is an attempt to compensate for the fact that I do zero in the way of complicated patterns).
The scarf pictured here is one that I completed just before making it to Southern Patagonia, and am I ever glad. It is a microfiber yarn with a carry-along thread that has a tight weave. It is toasty warm and has accompanied me everywhere, including glacier walking, as shown above. Completing it wasn't easy, I didn't have a crochet hook to thread the ends through the edges of the scarf, but Mom came to the rescue and suggested I use tweezers (something I don't travel without given my eyebrows). It worked like a charm!
I've received a lot of funny looks as we've traveled throughout Argentina, it seems that knitting has not experienced the resurgence here that it has in the United States. (One Argentinian woman thought I had knitted the whole scarf with the tweezers when she saw me weaving in the ends.) Most Argentines are surprised to hear how popular knitting is with younger people back home. Aside from the puzzled and embarassed-on-my-behalf looks, I do receive many encouraging smiles from older Argentinian women, especially in rural areas.