The theme for last Christmas was hand crafting with love. Some things worked out fantastically, and others…well…lets just say they were made with lots of love but not so much craft!
Let's go back to the beginning; namely, our first decision as Krafty Kris Kringles. We had to choose a gift for Mom & Dad and Ian & Deborah that we could actually make from scratch. After some perusing of the Interwebs, we settled upon shrubs, also known as drinking vinegars. Of course, as often happens in life, one decision begets even more decisions, and in this case, those decisions had to do with figuring out what flavor combinations to pursue. We ultimately settled on three:
Blood Orange & Basil with Champagne Vinegar
Raspberry with Apple Cider Vinegar
Kiwi, Lemon & Rosemary with champagne Vinegar
We used fresh fruit for the first and third, while the middle beverage was created with frozen Oregon berries.
There are two general methods for shrub making: cold and hot. We chose the former, which involves macerating the fruit with sugar for a few days in the fridge, straining it, and then mixing the resulting liquid with the right amount of vinegar. Then you return them to the icebox (or not) to meld for a bit. (The hot method involves cooking the fruits to make a syrup. Surprisingly, the cold method is supposed to yield stronger fruit flavors.)
In reality, for us, that was the easy part. The difficult part had to do with bottling, which completely took over our kitchen — from the boiling of bottles, to the drying of bottles in our dishwasher, to star san-ing the bottles so no one would die after sampling our wares. The two biggest items we had that I hadn't considered before we began: a) We had a giant stock/canning pot, uber handy; and b) We had a dishwasher, which was maybe the most important thing for staging the bottles upside down at various points of the process. Most handy tip we read.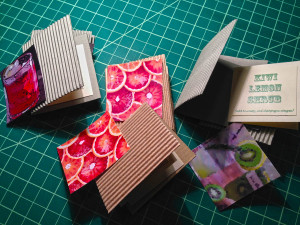 After bottling, we ginned up these cute (if we may say so) little booklets for each flavor that included information on the concoction and a recipe/cocktail suggestion. With marketing collateral complete, we packed the shrubs with paired beverages (like Prosecco, sparkling water, and some mixologist elixirs) in a wine box and put them under the tree.
What was our favorite? I would have to say the blood orange poured into a little agua con gas. Tres refreshing!
Lessons Learned: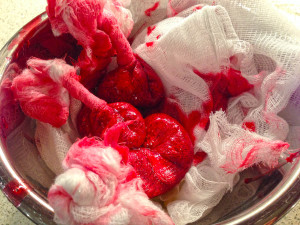 We were doing this in winter, so citrus was in season, which isn't typical for shrub making, but we were very happy with the results.
If you are going to infuse with an herb, take it out after the first day, or maybe submerge it in the fruit mixture with a cheesecloth so it doesn't get icky.
Straining the raspberries took a lot of work, and a lot of cheesecloth.
We started with the basic recipe proportions of 1 part sugar to 1 part fruit to 1 part vinegar. However, when it came time to add the vinegar, we adjusted the amount based on the strength of the flavors in the fruit base.
Everyone had their own preference for how much shrub they liked when creating a drink. The citrus flavors were definitely more delicate and I used a higher concentration of those when mixing them.