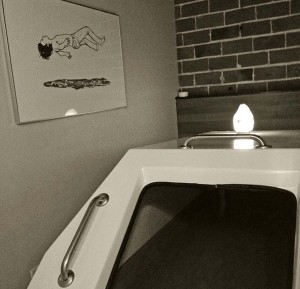 "Wow, you made it the whole 90 minutes…Generally, a first time floater only makes it an hour."
I couldn't help but feel inordinately pleased when I heard these words, all the while resisting the urge to fist pump my triumph, which would have been unseemly for so many reasons, and completely not in the spirit of the experience.
My birthday treat this year? Deprivation — sensory deprivation, that is. I have always wanted to try one of those devices where you float in a tank with no sound, no light, and no movement, just me suspended in some super salty saline. So after a bit'o Internet searchin', I came up with Mudra Massage, where they not only had a float tank, but they also practiced Ashiatsu massage:
"If you're in need of deep tissue work, but don't enjoy the discomfort of pointy elbows and thumbs, then Ashiatsu Oriental Bar Therapy® is the treatment for you. Ashiatsu is a barefoot massage technique in which the therapist delivers deep, broad, consistent pressure while utilizing their feet and body weight."
We had a winner! Sensory deprivation and then someone walking around on my back. Perfect.
I showed up for my appointment having followed their admonishments not to shave (my kinda place), drink caffeine, or get a tattoo prior to my float. I was ushered into a room with a shower and a giant pod that looked something like an astronaut return-to-earth space capsule. They gave me a few instructions, like where to place my head (near the fresh air input) and to relax my neck and shoulders (first time floaters will often tense to lift their head just a tiny bit to avoid the sensation of drowning).
Then it was just me, the shower, and the space capsule.
After a body wash, it was time to get in. Buck naked, I stepped into the hatch, gingerly, because it was super slippery, and lowered myself to my knees. Using the interior handle, I swung the hatch door down while simultaneously, and unceremoniously, falling onto my butt, enveloping myself in total, complete and utter darkness.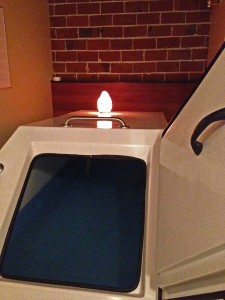 With a gentle recline, I lowered my back into the water until I was suspended in the briny solution, my head pushed down and my ears fully submerged. I could see nothing and I could hear only my breathing and the sound of my own heartbeat.
My first fluster had to do with where to put my hands. If I placed them along my hips, the buoyancy of the water would push my shoulders into an aggressive shrug — not comfortable at all. When I flipped my hands up and opened my arms wide, the edges of my fingers would brush up against the sides of the tank, which ruined the feeling of weightlessness. Finally, I raised my hands over my head — BINGO! Comfort at last. I figured, at that point, I would relax right into it and enter a Zen-like state.
Nope. No Zen-like state.
Instead, I started thinking about the return air. I wondered if it was working and how I would know if it wasn't? I started thinking that it might be good to monitor myself for carbon monoxide poisoning…then I began trying to remember what the symptoms were and wished I had a "floating buddy" like I used to have when diving, to keep an eye out for nitrogen narcosis. This led to an entire fantasy about how it would make an interesting death in a James Bond movie to have a villain in a deprivation tank. A crow bar through the handles on the outside and the person inside wouldn't be able to leave. Then you plug off the exterior air return…a horrible slow death in the space capsule.
As you can imagine, these lines of contemplation were not leading to a relaxing experience.
After what I estimate to be about 45 minutes of obsessive "I am going to die in the space capsule" thoughts, I began to have a mini hot flash. Game over. I decided to open the tank so that cool air could wash over my face. I sat up, and experienced a momentary bit of panic because I couldn't locate the interior hatch handle! (I had turned in the tank and was not facing entirely forward.) A short burst of pawing in the dark and I pinpointed the handle, pushed it free of the capsule, and propped it open enough to gulp down some refreshing air.
As good as it felt to spring that hatch, to be honest, it also seemed that my need to burst free was somehow cheating…the process…me…I'm not sure. How silly is that?
A minute or two later, I returned to the tank. And what a difference that break made.
I laid back and immediately entered a Zen state, experiencing crazy physical hallucinations. There was a long stretch of time where I would have sworn I was a suspended in a giant bowl of jello…and I would occasionally gently press down on the water, and enjoy moving in the jiggling jello. At other times, I woke myself up with a snore or with body twitches. And later, I believed 100% I was laying on my bed — that there was something physically underneath me more substantial and much harder than the water. And perhaps it was the salt drying on my stomach, but soon after that, I swore a blanket had been thrown over the top of me.
These sensations were not alarming, rather I marveled at them.
This second half of floating literally flew by, until I was brought out of my Zen slumber by soft music emanating from the bottom of the tank. (I bet the astronauts didn't have that.)
Would I do it again? I don't know. Am I glad I did it? Absolutely. Was it a great birthday experience? Yeppers.
And of course, now I'm going to have to talk Tom and the Zs into trying it too!