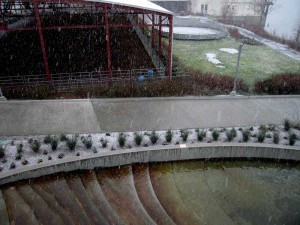 Hello beautiful mattress, we missed you!
After 8 months of sleeping in a full size bed that was a couple inches shorter than Tom's 6'2″ frame, we found our big fluffy queen sized mattress to be an absolute dream last night, despite the fact that we were still in sleeping bags.
Day 2 of our move was very interesting. Willamette Valley Movers went to our storage space and were impressed with Tom's Tetris packing of our 10′ x 15′ unit and asked if my perfectly balanced boxes (I'm so modest) were packed by movers. That being said, Charles and Dustin were not entirely thrilled with Tom's system of placing pallets on the storage unit floor to keep air circulating and water away from our stuff. It meant everything had to be taken out by hand.
Most of the move went off without a hitch, until a freak snow storm began developing at the end of our transferring everything into our new abode. We ran to our previously blogged about smoking Internet connection and looked up the weather forecast — it said: "nothing would stick and the snow would end shortly."
We made…well, okay…I made a command decision to pile the family in the parents' 4 wheel drive Jeep to run to the store and pick out some lamps since we couldn't really start unpacking in the dark (both bedrooms and the living room have no overhead lighting).
That was a HUGE mistake.
The snow storm brought the entire city to a standstill. It took us 2 hours to return from the store, something that would have normally taken ten minutes. We saw buses moving in scary, slow motion broadside skids on modest hills. Cars stalled out everywhere, squealing rear wheels turning on the slippery roads. At one point, we were stuck for 30 minutes behind a semi that couldn't get up a short slope.
By the time we had crossed the river, I couldn't sit in the car for another second. I hopped out of the vehicle, with Zoe and Zelda in tow, and we walked the rest of the way home. Part of our trek took us over a pedestrian foot bridge that spans the train tracks in Old Town near an historic train station — it was so beautiful. The snow falling in big fat flakes upon the pristine white rail yard and brick buildings, which we viewed from above, top lit dramatically from the span of the bridge.
A sign of the slow going — The Zs and I reached the apartment before Tom did in the car.
Furthermore, our snow outing put a serious dent in our unpacking productivity. We only put together and placed all of our furniture. I didn't unpack a single box. (For those of you who know me, that is faint-worthy information.)
Pictured Above: From our place we have a view of the Willamette River, the Fremont Bridge, and part of what you see here — the riding grounds and training ring for the Portland mounted police. Every morning we watch them and sympathize with the newly minted equestrian officers of the law!