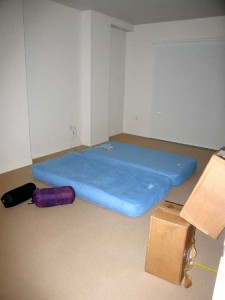 Pictured here is the master bedroom of our new place…we went a bit spare!
Our first day in our new apartment involved getting lease paperwork signed, taking a look at our storage space and figuring out what we needed to get together so the movers could actually move us, stole some towels from my parents' place so we could shower, did some moving ourselves, met with the cable guy to get our smoking fast Internet connection, shopped for some food, put away all of the wonderful pantry staples my parents bought us…blah blah blah.
The kids have decided to try an experiment with our new living quarters. The girls are once again sharing a room, which Zoe, being older, is not thrilled about. However, their room has a humongous walk-in closet, so they have decided they would like to sleep on Aerobeds, which they can stow away in their closet with the rest of all of their belongings, leaving them with an entire room for playing.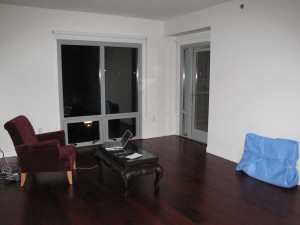 We're not sure how long this is going to last, or how much time will pass before they pop a hole in one of the beds, but we're willing to give it a try!
Of course, for our first night in the apartment, sans furniture, Tom and I stole the Aerobeds and left our poor children to catch their Zs in sleeping bags on the floor. My 43 year old body doesn't really rest sans mattress!