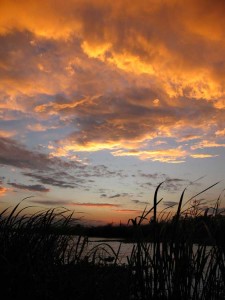 What a treasure this area is. Esteros del Iberá is one of the largest wetland/marsh areas in the world. It became a provincial reserve in Corrientes about 25 years ago.
The region features huge floating islands of compressed dead grasses and plants that support an incredible array of biodiversity that you can view via small boat, canoe, on foot and horseback while visiting.
The population of caiman (the Latin alligator) has recovered quite nicely, as has the marsh deer. I'm particularly fond of the latter, of which we saw quite a few, because these unusual ungulates apparently have hooves that expand to allow them to walk in the soft, moist soil. And, last but not least, the region is home to a thriving population of capybara. For those not familiar with this particular creature, the carpincho (as they are called here) is not only the largest rodent in the world, but if our observations over four days are at all reliable, it is also the most carefree.
If you are a birder, you could see a zillion life birds here.
One of our favorite avian moments happened when we came upon a very large bird settled atop a tall palm tree, yelling at us with its ignominious cry. It was really a Dr. Seuss visual.
The Iberá reservists hope to continue their species recovery work by reintroducing many of the animals that were hunted to extinction in the area, some of which include big cats, the tapir, the giant anteater, and wild boars. They are starting with the howler monkey though. The marshes here represent their southern-most habitat on this continent. The forested area where they currently reside can support about 15 monkeys, which is the size of the population living there now.
We will be following anxiously the fortunes of this delicate ecosystem over the next decade as it fends off threats from poachers and hydro-electric dams (run off increases the water levels and destroys the marshes). We hope that the whole of Argentina recognizes this area for the incredible national treasure that it is.