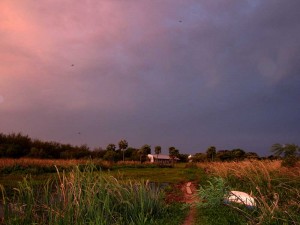 Our home away from home was the lovely Posada de la Laguna, which is pictured here. For an all inclusive rate, we were given 2 excursions a day, breakfast, lunch, dinner, and tea. As if that's not enough, they also would deliver water and caramels to each habitación every afternoon. The latter was a favorite feature for the Zs, who would race back to their room, fling open their door, and inhale the buttery confection as quickly as possible.
The main lodge/dining area was homey and, during meals, there was usually an interesting mix of music playing. We heard everything from Pink Martini (we told the proprietress that they heralded from our home city in the States) to arias from the Verdi opera Rigoletto.
The property hosts a small unheated pool, which was suffering a bit. Half way though our stay, they decommissioned it to lay some tile and institute repairs.
The rooms were quaint and generously sized with fabulous light, patios, hammocks, and screened windows. They were impeccably clean — you could walk around barefoot in the room or on the patio and pick up nary a dust bunny. There is a picture of our bedroom below.
The food was surprisingly good. There were several lunch menus sin (without) meat. (No that's not a typo folks — vegetarian meals in Argentina!) Unusual fare included soups (not containing squash), a stir fry, some sort of carrot timballo, and a homemade al dente ravioli stuffed with spinach. They also made a wide selection of very yummy tortas (cakes) which were available for breakfast and for tea. Lastly, our personal favorite, was their homemade white bread that toasted up a la delish French bread. Boy, did we go through some butter on this trip.
Their excursions were varied and the guides were great, but if you don't speak any Spanish, you'll be out of luck.
Service was deft — subtle and gracious. When I became violently ill on day 3, they would bring green tea and toast on a lovely tray to my room while Tom and the kids were out on the lagunas.
Our five days were relaxing, calm, scenic, and perfectly scheduled!