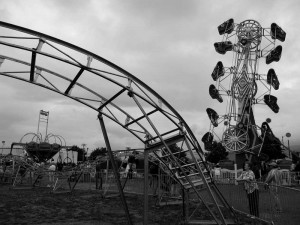 Our favorite Oregon fair to attend is the Tillamook County Fair. We love this event because 1) the weather is usually blissfully cool; 2) the proceedings involve the whole community with livestock and 4-H exhibits; and, 3) they are the only fair in the world with Pig N Ford Races!!
"What is a Pig N Ford Race?" you ask. Good question. First, you take four Model T Ford chassis that need to be hand cranked at the front of the car in order to be started. Next, you place these automobiles on a horse track next to four pens, each of which holds three pigs.
The drivers of these Ford cars must grab a pig, start their Model T with the hand crank while holding their squirmy swine, and complete a lap of the track with said unhappy pig in their lap. When a competitor completes a loop, they must stop and turn off their car and then return the first pig to the pen. After that, they get to do the whole thing again, two more times. The first one to complete three individual porcine laps, wins (you complete a lap when the pig in hand is returned to its pen).
You can see a car in the Pig N Ford Race from Thursday in the first photo below.
The Zs also got to hold a python on stage, eat elephant ears, scramble their brains on lots of rides with their friends, pet some tortoises, hang out with the pigs, goats, chickens, cows, bunnies, and sheep, and gaze at large farm equipment. It's good to be a kid.