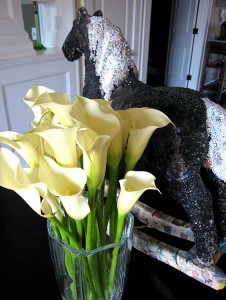 The girls have found yet another family they would rather live with than their own! This time, they wanted to stay with Robert and Lucy, old friends that recently moved to Portland, who graciously housed us for the last few days.
And really, why wouldn't our children want to desert us after our stay?
At the Lucy and Robert B&B, the wee ones got to swim in a neighborhood pool (25 cent donation suggested), drink steamed milk with a hint of chocolate, eat massive amounts of cherries and blueberries, visit and hold a neighbor's pet chickens (named Chloe, Daphne and Pete — but they're all girls), attend the Hollywood Farmer's Market (where they inhaled a fresh peach/raspberry crepe with whipped cream), lay (and squirm) in the house hammock, watch Mamma Mia!, and work on their juggling with lavender-filled stress balls.
Pictured above are the beautiful flowers that we picked up from the farmer's market and Lucy's lovely rocking horse, one of many wonderful pieces of her art which besprinkle their new home.