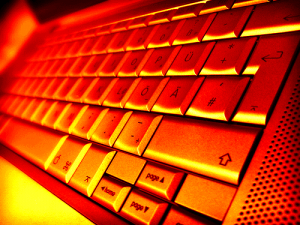 With our withering brain mass, we can't remember exactly when we bought our MacBook Pros, suffice to say Tom's was probably sometime in 2006 and mine in 2007. For the most part, we have been very happy (I was a Windows convert), but I do have three rants (of course):
The first knock is that this computer runs incredibly hot; so much so that I can't really compute for any length of time with it on my lap. It has actually gotten to the point once or twice where I have taken it off my legs and peeled down my pants to see if I was mildly burned. In fact, Tom has taken to grabbing the ice packs I use on my knee and placing them between his limbs and the computer if he is going to have it on his lap for awhile! Ridiculous.
The second knock is the speakers, which are set to a level the bionic man would have trouble hearing. (I suppose the engineers did this because speakers generate a lot of heat, see first rant above.) We've noticed the biggest problem with older movies purchased on iTunes; for instance, the Karate Kid (Xmas present for the kids) is literally impossible to hear. We have used Audio Hijack to boost the speakers a bit, which helps somewhat…
The third knock is the wireless, which apparently suffers interference from the metal case around the computer and doesn't work well if you are in any sort of challenging wireless environment. This was very apparent during our summer travels. Ian, who had the newest Apple out of the three of us, a MacBook with a white case, practically had a satellite link. I usually encountered medium to low signal strength if Ian could connect easily. And Tom, well, he would get zippo, zilch, nada, no signal at all unless he was seated right next to the router. (Talk about Tom being frustrated!)
Original Photo Before Heat Colorization by Flickr user TheRealGrudge used under a Creative Commons license.