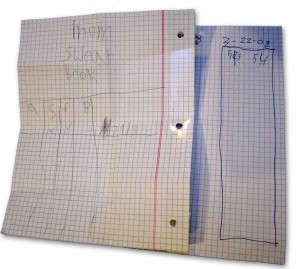 In order to combat my all too common tendency to swear a blue streak, I have cemented a deal with Zoe and Zelda. For the next month, every time I curse, I owe them 5 cents (they were savvy enough to make sure we were talking $US coinage).
The catch is that they have to witness the swearing and they have to track it with their own log sheets that they design.
They embraced this task as if they were in hall monitor heaven! They were both very thorough about cataloging what constitutes a swear word. It turns out, this was important because they like to indicate which curse word I have uttered on their log sheets (I have no idea why). Happily, they only know four curse words: the a-word (ass), the s-word (shit), the f-word (well, that speaks for itself) and the b-word (bitch, which I only use as a substitute for "whine," such as, "quit bitching about…").
If you click on the photo above, you will see on their log sheets that I already owe them 10 cents, which was for the use of the f-word and the s-word. In all fairness, I said these two swear words yesterday when Zoe dropped a knife off of the stairs from the second floor that flew, point down, through the atrium, at an alarming rate of speed right past my ear, which was attached to my head on the first floor! I'm starting to wonder if she did it on purpose to provoke swearing… .