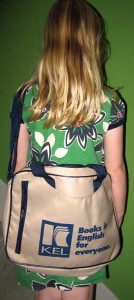 There is a chain of English-language bookstores that we frequent here in Buenos Aires called KEL. (We normally only buy the Z's books there because it's really expensive and Tom and I peruse most of our reading material on the Kindle, which we continue to love.)
Since Zoe recently ran out of books to read, it was clearly time for a run, so off to KEL we went. (Today, it was homeschool in the taxi.) Imagine our surprise when we showed up at this normally sleepy shop only to be greeted by a mob scene. All of the shelves and books were cordoned off, there was a huge line, and they had implemented a see-customer-by-number system.
It seems that in February and March, when school starts back up after summer break, the KEL locations have a higher volume of customers. In response, they have devised a novel system for dealing with this uptick — they make ALL of their clients take a number. When a customer's number is called, they must tell an employee which tome they want, and said employee retrieves the book for the client. NO SHOPPERS CAN BROWSE ANY BOOKS ON THEIR OWN.
Needless to say, this is a ridiculous system — the store is a mess and people wait forever to buy their one English dictionary that they seem perfectly capable of choosing on their own.
I tried explaining to the store clerk, who spoke great English, that we wanted to look through chapter books for the girls and that I didn't have any specific titles in mind. She got really shirty with me, and her "solution" was to stand behind a shelf barrier and hand us every chapter book they had in Zoe and Zelda's age range. (Which really struck me as a great use of her time.)
Of course, she brightened up considerably when she realized that we were going to buy a boat load of books. And, even though we were a royal pain in the ass from her perspective, she did throw in this hot book bag, modeled here by Zelda.
This ranked as one of my most ridiculous shopping trips ever! If we hadn't needed the books so badly, I would have just waited until April.