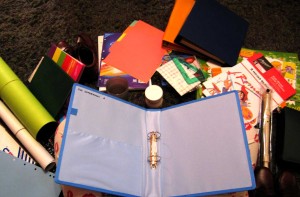 Yes, that's right, school started this fine Monday for the Zs, a day that Tom and I like to call, Parent's Day.
Last night was a late one. As you can see pictured here, we had to go through all of the school supplies, label, reconfirm we had the right stuff (they are very particular that you get exactly what is on the list), find uniform crap, iron said uniform crap, Tom had to fix the clip-on tie that Zelda had destroyed last year, pack backpacks…the list goes on and on.
Today, the Offermann/Reeves clan got a very bleary-eyed start to the morning, and, although we had to squeeze in an unplanned kiosk stop to grab some juice boxes, we were still early on the first day of school! "Hah and double hah," as I like to say to the girls because it makes no sense and drives them crazy. Anyhow, enough about us, the Zs were excited to be back at school and we all felt it was lovely to be welcomed so warmly by parents and staff. They were in high spirits when we picked them up at noon.
The latter half of the afternoon marked the beginning of our great experiment. We made lunch and then I cracked the whip as the home schooling maestra. Zoe said, "Mommy, you're hard!" Music to my ears. When the albino girls would get a little burned out from the home schooling death march, I allowed them a short timed break, or had them do some exercises (sit ups, good mornings, flutter kicks, jumping jacks, squats, push ups, etc.) I called the work out mats, "portable recess."
Our main topics today were writing and lots of geography — their South America is really rocking (although they still need to work on spelling country names properly). I had them research a South American country of their choice. (Zelda was delighted that we were having "computer lab time," as she called it.) I learned from Zoe that Brazil borders on every country in South America except Chile and Ecuador. From Zelda, I now know that the national language of Guyana is English. Who knew?