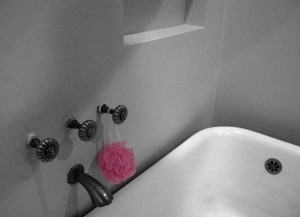 Washcloths are not very popular here in Argentina, so I had a solid five months of dead skin cells that had accumulated on my body (they have received a generous smearing of soap though) since traveling to South America.
Then, a few days ago, I remembered that I am a girl. I don't have to accept a lack of exfoliation in my life. There are other ways to shed old skin besides using a washcloth. Primed for action, I marched down to the local Farmacity and immediately began perusing the loofah section. Alas, I was not happy with the selection, so I went with recycled pink plastic poof — pictured here.
To accompany said poof, I am using a Dove product that claims to have 10 times more moisturizers than soap. (I automatically love anything with an order of magnitude in the marketing). My new oily, yet cleansing, soap is combating both my uber dry skin (another problem I have had for months) and ridiculously ashy legs (a condition from which I shouldn't suffer given that I have the skin tone of an albino).
I am happy to report that I am very pleased with both products! It's great being a girl.