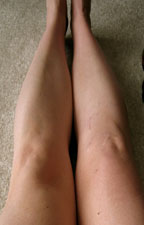 Recently went to the doc where he pronounced my knee to be "looking great." I thought his opinion a bit generous as it was swollen and a little lumpy!
He also pulled out two of the dissolvable stitches that had worked up through an incision, and hence didn't dissolve (that was a little weird).
The picture here is two months post-surgery. Looking better than it did one week post-surgery! My right leg is still a bit puny with lite quad action, but it's coming along. Range of motion is finally improving and I'm getting much stronger.
Tom, thankfully, no longer has to torture me everyday!