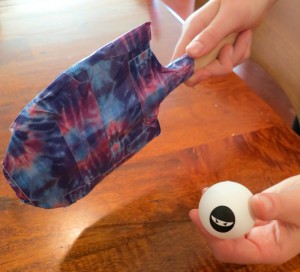 Zoe went to #OSCON (Open Source Convention) in Portland this July, attending a robotics camp for girls. Since most of the stuff they worked on with Lego Mindstorms she had already done at home, she found the most thrilling element of the conference to be swag acquisition.
She came home with bags of t-shirts, mugs, mouse pads, and strangely, a ping pong ball. Yes, a ping pong ball. And not just any ping pong ball! This one came complete with a picture of a little masked ninja face on the side, as you can see in the picture above.
One day, this ball provided her with a flash of boredom-relieving inspiration, and she announced, "I am going to make ping pong paddles."
"Please don't," I pleaded, picturing that ill gotten little ball ricocheting around our apartment, and then into my head. By accident, of course.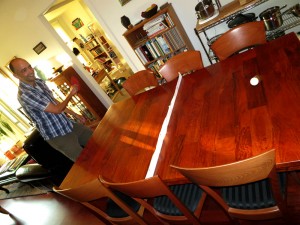 Big surprise, Zoe ignored me, and with some tongue depressors, paper, and duct tape, she made two ping pong paddles. Amazingly, they functioned perfectly to allow for a robust game of Zoe Pong on our dining room table, since the paddles absorbed enough of the ball's velocity to allow the game to scale down just the right amount. I hate to admit it, but both Tom and I became big fans of Zoe Pong, and had some epic matches ourselves! (Okay, we don't officially keep score. We get so competitive, it could get a little too heated!)
After Tom, the Zs and I all took a turn, we agreed unanimously: "Ian is going to love this!" You can see him taking some shots in the picture here!