This is the beach of my late childhood. The beach I could see from my high school geometry class, the one that would mesmerize me into a catatonic state, causing me to lose my train of thought…
"Was that interior alternate angles are equal…?"
This is the beach where my best friends and I skipped off to during the wind and rain of winter, dodging out on a practice run to go swimming in the cold ass Pacific Ocean, plowing into the surf in our shorts, t-shirts, and knee-high sports socks.
When my New Jersey-born husband first visited the Oregon Coast with me, he couldn't believe my high school was located directly across the street from such gorgeousness.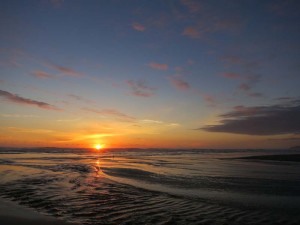 Tom still laughs about his inaugural sojourn to the beach of my childhood. We walked toward the sea from my parents' place, located roughly a quarter mile from the dunes and grasses, emerging onto some of the most stunning coastline I have ever seen.
I looked left, I looked right, and said…"I can't believe it…it's so crowded!"
Now, you have to remember that Tom's childhood coastal experiences were more along the lines of the Jersey Shore, where a body is hard pressed to find visible bits of sand in the crush of humanity that congregates there.
So, as you can imagine, he found my attitude particularly funny.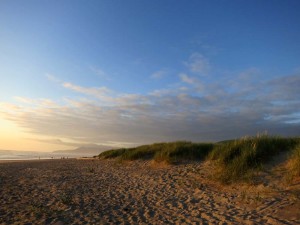 "Uhm, Michele…there are…what…about five people here?!?"
"I know…I can't believe it," I responded, with no small amount of outrage.
It is lovely for the Zs that this is now the beach of their childhood. They freeze themselves in the water, swimming until their lips are blue. They roll around in the sand (still) until their ears are full of its multi-colored grains. They scramble over the huge piles of driftwood left by surging storms.
Luckily though, they don't have the resulting drop in mathematical thinking that often accompanied my connection to the beach!