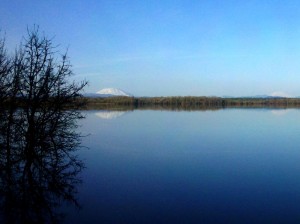 Tom and I had a lovely taste of two things yesterday: spring, and unexpectedly being child-free for much of the afternoon and evening!
We took advantage of this windfall and hoofed our old asses out to Sauvie Island for a stroll along the Oak Island Nature Trail, which takes visitors around the peninsula of the same name.
It was dusk by the time we finished, the light was incredible, and I was lamenting the fact that I hadn't thought to bring my camera. We could see Mount St. Helens, Mt. Adams, and Mt. Hood as if they were a mere few feet away, but unfortunately I only had my less than stellar phone to try to capture the moment. The picture on the upper left is the best I could do, with Adams and St. Helens reflected in the still waters. We basked in this truly stupendous view for awhile. (click to enlarge)
Our highly underdeveloped bird watching skills really paid off, as we were able to spy a GIGANTIC bald eagle surveying its domain high in a tree just off the trail. I've seen a lot of osprey, but not yet a bald eagle at that distance. It was enormous, and amazing. Later, as we rounded the point, we came to an area where the branches were literally festooned with large nests, and then, standing apart from them all, was what appeared to be a freaking tree house. Being natural…well…naturalists, we figured that must be the home of the bald eagle, and a palace it was. (Second picture below shows the nest if you enlarge.)
In communing with Gaea, we enjoyed the refuge meets farm view (bottom left) and the wild grasses (bottom right). On our walk, we also spotted three bunnies hopping down the trail, across the trail, and into the bushes.
I love Portland, that such amenities are nearby. That it is relatively bug free, so I don't have to slather myself in insect repellent. And, that as a community, the public and private sector are dedicated to the preservation of our natural environment.
Happy Earth Day!