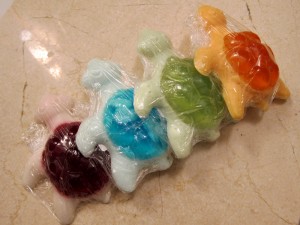 I had the most fantastic surprise in the mail yesterday! Four gorgeous, fabulous smelling turtle soaps, lovingly handcrafted by my aunt Leslie.
She is an incredibly talented and generous woman who thought the Zs and I would enjoy a little handmade Shea Butter and Aloe Vera soap.
Leslie, you were right! We do enjoy! We are enjoying!
For the record, I would like to say that the Zs practically got in a wrestling match in their excitement over which soap to claim for their bathroom. And, Leslie, you will be happy to know that living with 3 women has rubbed off on Tom, and he appreciates a non-drying hand soap as much as the next guy!
I also wanted to get a plug in for my aunt's Etsy store. She makes some of the most gorgeous wooden crafts. Her cutting boards with inlaid turquoise–a great Mother's Day gift.
Thanks Leslie for making my week!!