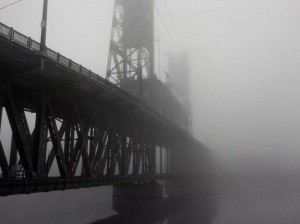 Prior to our carless period, seven years of living in Portland had netted me exactly one trip across the Willamette River on foot. (During Tom's marathon training, he made many crossings, so his record is much more solid than mine!)
Now, as a rule, if I have a work meeting anywhere in-city, I try to walk or bike to it, which has had the happy side effect of requiring many, many pedestrian crossings of the Willamette, the river that bisects Portland. And every single time I step foot on one of our bridges, my mood soars…it's so movie montage cliche! Regardless, I find it spectacular in all weather — the driving rain, howling winds, dense dense fog, and gorgeous gorgeous sunshine. These little cross water forays provide a sort of relaxed fulfillment that surprises me each and every time I undertake one.
I think the Steel is my favorite because the pedestrian walkway is so low to the river.