Our first trip this winter break was a quick drive to Bend for some skiing, in celebration of Zoe's birthday. We made the journey via Zipcar and rented a two bedroom place near the slopes. It was snowy and icy on the way, but nothing horrible. The car held its own, the mountain passes weren't too bad, we made decent time, and prepared a fabulous dinner when we arrived.
By all traditional measures, and believe me, our standards are very low, our adventure started off with a bang (the stupendous meal really put us over the top).
The next morning, it was the usual schlep to get on the slopes. (Thank God for Tom, because the three women in his life hate getting up early, even if it means we get to go ski.) It was dumping snow when we made it to Mount Bachelor, scrambling madly to get the girls to their lessons on time (Zoe took up snowboarding this go around). Of course, lots of whining ensued about the being cold, and the carrying of the gear, and the donning of the boots. But, we made it. (It always feels like an Olympic event just to get to this point.)
Shed progeny…check!
After stowing gear in lockers and prepping ourselves, Tom and I finally took to the slopes. Normally, this is a joyous time, but I was feeling more than a bit nervous since it was my first attempt at skiing post knee surgery. To be honest, I was really hoping for some easy familiar runs on well-groomed intermediate trails.
Unfortunately, my plans were thwarted at the outset since there was a nice windy blizzard brewing. Visibility sucked… really, we couldn't see anything most places on the mountain…not signs, not the snow, not the trail. Nada. And, of course, there was tons of chewed up powder, making the day even more difficult for me!
It was a rough outing, to say the least. My knee was sore as hell, Zelda was cold and had windburn on her face, and Zoe had contracted some altitude sickness symptoms (such as a mild fever) and was pretty beat up after her first day of snowboarding (She did really well, but had a sore neck 24 hours later after taking a few spectacular spills…always on her front edge with the toe turn.)
We closed out the day wanting to document the family in the torturous winter wonderland, only to discover that our new digital camera was broken. Lovely.
Weary, we headed back to our rented home, and the kids lobbied hard to bag skiing the next day so they could sleep late and go inner tubing instead. Tom reluctantly agreed to the change of plan. (Which I was secretly happy about since my icing/hot tub regimen wasn't really improving my unhappy joint. Ironically though, the knee protection plan took a heavy hit after my first inner tube run. Some idiot teenage boy — son of very entitled parents — followed immediately behind me instead of waiting, as he was supposed to, and knocked me over like a bowling pin the second I got out of my tube, with Tom frantically yelling, "Watch out behind you!")
Our inflatable fun had us leaving the mountain at about 2:00 pm. That's not too late, we figured. All things being equal, we should still get over the pass at Mount Hood by 4:30 pm…just before dark.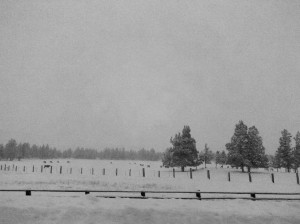 Then the snow came…heavy and hard. By 4:30, we found ourselves in Madras, nowhere near the pass. Night fell as we traveled through lonely reservation lands, inching toward Mount Hood, with me trying to tail close behind a semi. Much of the time, I was only 20 or 30 feet from the large truck, and I still couldn't see it! Both of us were crawling along, feeling our way down the road. The conditions were atrocious and Tom and I were hoping and praying we weren't going to get stuck or have to double back.
At about 6:30, as we finally arrived at the pass, the snow was easing just a bit… and visibility was improving… and a collective sigh of relief was heaved in the minivan… well, at least by the adults who were paying attention. Of course, right then, all traffic halted in both directions. A downed tree was blocking the road and a vehicle had tried to drive over it and was stuck. The drivers of the trapped cars began a mad search for someone with a chain saw. Thankfully, this being Oregon and all, it didn't take long! A wonderful guy in his Carhartt's had that fir cut into rounds and cleared off to the side of the road in no time.
We rolled down the windows of our van and all thanked him soundly and roundly, in unison, as we inched by, "…Ready, 1…2…3….Thank you for clearing the tree!!!" He laughed and waved back to us.