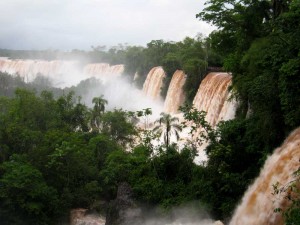 If you asked Zelda what her favorite thing about traveling to Iguazú Falls was, you might be surprised by her answer.
Was it the boat trip into the falls? NO.
Was it the jeep ride through the jungle? NO.
Was it the vista from our hotel balcony overlooking the falls themselves? NO.
I am willing to bet that the most-liked feature of our trip for the smallest member of the Offermann/Reeves clan was the buffet at the Sheraton. The evening repast featured a cornucopia of eating option, spread across multiple stations in two separate rooms. She was in heaven, and announced to one and all, "this is my first buffet." (I think the 4-tiered chocolate fondue fountain really put it over the top for her.)
We realized that although she had previously been to a few all-you-can-eat fests, she was too young to remember them. So this dining experience, complete with live harpist shilling his CDs, was one to remember.
That's not to say she didn't really enjoy everything else! The rushing waters were a blast to motor through. (Because of the high water levels, only the tour with the big boats was running.) Zelda also explored the labyrinth of trails with enthusiasm. And, she managed to avoid being attacked by a coati scavenging for food. (A coati is a member of the raccoon family and are also known as Brazilian aardvarks, hog-nosed coons and snookum bears. They roam around taking food from tourists, but there are warnings everywhere that they can attack for vittles.)
Unfortunately, due to the pretty extreme weather, not a lot of toucans and monkeys were hanging about, but we were happy to exchange the fauna for such a spectacularly dramatic falls experience!