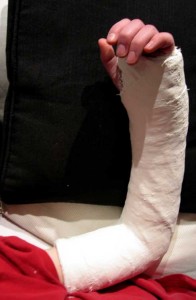 No, this didn't happen horseback riding. It occurred playing around on a tree outside of a restaurant. (Zoe wasn't very high up, but her foot got caught and she fell back, breaking her wrist with a creepy looking fracture.)
After the accident, the restaurant called an ambulance, the police came (not sure why), and Zoe was her usual calm self.
It was a bit of a zoo getting to the hospital because policy allowed only one person to ride along with Zoe, but after we kept asking for information on where the hospital was and where Zoe and I would be, our could-have-been-born-in-New-Jersey driver finally heaved a sigh and said to Tom "just get in the God damned ambulance." (I think the final straw was Tom pulling out the Guia T and asking them to point it out on the map — pure genius.)
Lest you worry about Zelda, she went on a playdate with Liam's family, whom we were visiting with at the restaurant. (Thank you Lori for all of your help.)
Upon arrival at the Hospital de Niños, we were taken through the back door of the emergency room that was packed to the gills. They sent us for an x-ray pronto, called a specialist who took a 1/2 hour to materialize, we discussed options for setting the fracture, proceeded with local anesthesia, and received another x-ray in nearly the same amount of time it took me to write this post.
Okay, it wasn't quite that quick, but it was monumentally faster than it would have been in the States. Having said that, I do believe that we received the benefit of special treatment for clueless foreigners because the public hospital's waiting room was filled to bursting with a more ethnic concentration of people than you usually see in Buenos Aires, which happens to be a very white city.
Zoe also managed to dazzle the hospital staff, who marveled at her bravery (what we call "Offermann stoicism") and her interest in what was happening throughout the procedure. She did say that the setting hurt like hell, even with the local anesthesia, which they didn't favor because they didn't believe she could keep it together through the pain.
At the end of the day, I can sincerely say that we are incredibly thankful for the prompt, kind, and efficient treatment that we received from everyone during such a stressful event in our family.
General impressions: There was a vendor selling panchos (hot dogs) in the waiting area…Zoe's cast is old school plaster (good for signing)…dealing with a complex fracture and debating about anesthesia for fracture setting is pressing the limits of my Spanish…the bathrooms were not clean and had no toilet paper, soap, or paper towels…no one ever mentioned payment at any time…we never once filled out a single piece of paperwork outside of telling staff Zoe's name and her age.