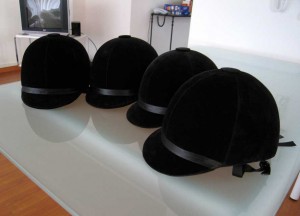 We had our first horseback riding lesson this week! (Okay, I know that it seems like we are trying to create some sort of throwback to a colonial lifestyle between our tennis club and equestrian outings, but I assure you that we will not be hiring a governess for the kids anytime soon.)
Our goal is to achieve some basic competency with horsemanship so we don't look like idiots when we are trotting or cantering on the rare occasions that we find ourselves on horseback . (I don't believe there will be any jumping in our near future, although it does look like fun!)
Anyway, it was the beginner ring for us — the girls with their own instructor and Tom and I with ours (turns out, no one wanted to give us a class as a family because apparently kids and adults learn too differently).
We worked on our posting (also known as, "how to avoid bouncing like a goof while trotting"), our walking, our horse kicking, our smacking horse rumps with the riding crop, our stopping (feet move slightly back, squeeze with the legs, hunch in the seat, and pull back on the reins), our rein holding, and our dismounting (take both feet out of stirrups).
Take Aways: I need to wear a sports bra. Tom thinks he's found the ultimate sport for him since there is no arched back posture required, and to stop properly, you must hunch a bit. Larger horses can't be made to trot by little inexperienced riders, instead they eat and mosey. We have learned a new Spanish and English word — polainas, which, in English, are short chaps or half-chaps.