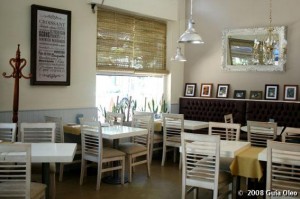 We are constantly on the lookout for dining options that meet the following impossible criteria:
1. An exciting menu (for us, that means offering something besides milanesa, empanadas, steak, or a pizza with an inch of cheese); 2. Food that is palatable to both children and parents (often at odds with the previous item); 3. Being open before 8:00 pm on weekdays (so that we can catch a meal during the school week and still get the kids to bed at a reasonable hour); 4. Must be located near home; and, 5. The cuisine cannot trigger Zelda's nut allergies.
Well, stop your laughing, because we found that restaurant tonight! El Francés, on the corner of Thames and Gorriti (the address is Gorriti 5099). For a reasonable price we found a nice selection of dinner treats that were beautifully presented. I quite enjoyed my chicken stuffed with mushrooms and gruyere with a side of squash risotto. Their baby salad greens were both lovely and tasty (being vegetable-deprived, we all gobbled those down).
But, without a doubt, the show-stopper of the meal was the mint lemonade-limeade slushy made with a scoop of lemon sorbet — WOW! Totally addictive, not too sweet, and absolutely amazing.
Photo courtesy of Óleo, Guía de Restaurantes