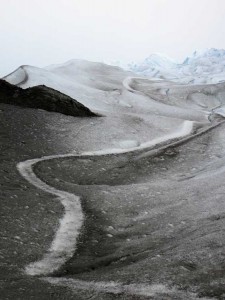 Tom and I put ourselves in the shoes (or crampons) of an adventurer and mini-trekked on Perito Moreno with Zoe (who just made the age limit by the skin of her teeth). In truth, our ice hike was not all that strenuous, but we felt intrepid nonetheless!
(Zelda and Ian went on a boat tour of the glacier since Ian had already walked on a previous visit and Zelda was too young.)
Our trekking adventure began with a boat ride across the lake to access the glacier where it abuts the land (here the glacier flows at about 10 cm a day). After hiking to the edge of the glacier, we were outfitted with crampons and began trekking on the worn path shown here. The trail is light in this photo because it has been worn down to cleaner ice through the darker, dirtier glacier. I wasn't expecting a lunar landscape when we started!
The tour was limited to the periphery of the glacier. (One wants to avoid the craggy middle with newbies. The ice flows in the center of the glacier at about one-and-a-half meters a day.) The "trek" was 100 percent pure fun that wended through paths with high ice walls and near sink holes in the ice. It also allowed us the chance to imbibe glacier water and whiskey (ye old watering hole on the glacier is pictured below).
If you ever have a chance to take this tour, DO IT!