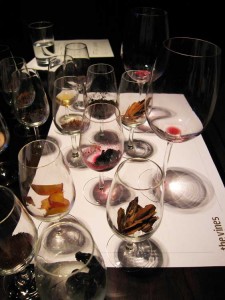 Note for readers: Another post by Tom. As a general rule, you'll find that all alcohol-related posts are authored by Tom.
It's hard work tasting wine in Mendoza. You've got to hire a driver or rent a car so you can wander from vineyard to vineyard. At each tasting room, you can only sample a single winemaker's output. And, if you're joined by two children, how many wineries can you really visit before the little people begin to mutiny?
Luckily, Ian and I discovered that there's a better way: The Vines of Mendoza Tasting Room. It's a beautiful room located right in the heart of downtown Mendoza, and it offers a comprehensive menu of wines from almost every winery in Mendoza. All of which you can enjoy in its courtyard underneath a canopy of vines, or at its elegant bar, or perhaps in one of its private salons, which is where Ian and I found ourselves.
Since the experience of tasting wine in a private salon couldn't possibly be snooty enough, and since I have next to no knowledge of the vintner's art, we clearly needed a guide. Someone who could accompany us on our sensory exploration of three emblematic wines of Argentina. Someone who could teach us how to savor a wine, understand it, and appreciate it.
Which explains why there is a wine glass full of dirt in the accompanying photo. And others with jam, and mushrooms, and various fruits. Fully appreciating the wine involves identifying the various scents and tastes that give each wine it's unique character. So, we used these glasses to give us a vocabulary of scents, so we could single out the plumminess of one wine, the hints of tobacco in another, and the citrusy goodness of a third.
Sounds simple in theory, but I quickly discovered that it's much, much more difficult in practice. Our guide taught us the five alliterative steps to taste a wine: see, sniff, swirl, sip, summarize. But, most of our time was spent sniffing a wine, and then sniffing the various scent glasses to to try to figure out what we were smelling in the wine. Is that dried mushroom I smell? Chocolate? Definitely not lemon. But…something fruity…Cherry? Strawberry?
I would consider my choices. Ian would mull over his choices. And, once we had reached our final conclusions about a particular wine, we would reveal our choices…and discover that we completely disagreed. If I smelled raspberry, he sensed tobacco. If I thought lemon, he chose ginger.
Clearly, improving my scent vocabulary is going to require a lifetime of smelling…and sadly, a lot more drinking as well.