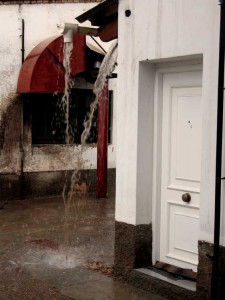 We only took one tour of a winery while in Mendoza, and boy was it memorable!
We chose to visit a very small boutique winery owned by Carmelo Patti (he is a local celebrity). His small one-man winery is usually mobbed with tourists, so we were lucky to have him all to ourselves because it was late in the afternoon on New Year's Eve.
Carmelo's grandfather made wine for the family in Siciliy, and his father did the same when they moved to Mendoza, Argentina. Carmelo went into the trade professionally and has been a winemaker for some 47 years, in one fashion or another.
As we were deep in the warehouse with Mr. Patti, a tremendously powerful thunderstorm hit and due to a clogged gutter, Mr. Patti's tasting room began to flood badly. It was raining from the ceiling and pouring out the door like a raging stream. His paperwork and memorabilia were sopping, his giant ancient leather guestbook was soaked, the power went out, and the place was trashed.
Carmelo climbed a rickety ladder to the roof to unclog the gutter. We dropped everything and went into action. The girls worked the squeegees in the tasting room with Ian. Tom and I rescued paperwork, set it out to dry, and began blotting the ancient book. It was crazy.
Not surprisingly, the Zs thought it was the coolest wine tour ever!