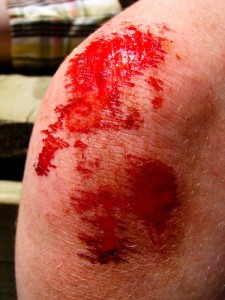 Apologies for the break in posting over the weekend. We traveled to Punta del Diablo and the free WIFI places in this small fishing village are down, so that meant no posting!
(After a momentary freak out, we were ready to embrace a week free of the Internet…until we discovered a hostel that would let us buy some WIFI time!)
Back to the story. Just as we were "manning up" to living without the Internet, we realized that we were going to be embracing a week free of towels and sheets as well. (In truth, this is more "manning up" than I intended on this version of our journey.)
The bleeping dirtwad who owns the cabaña we are renting in town left us with no sheets or towels! When we hiked into town to call him (he lives in Montevideo), he said, "nothing I can do, I do not provide these." Basically, their trick was to make the beds with attractive and colorful bed spreads to cover the mattresses and pillows so they appeared to be properly made (with linens). It wasn't until we actually went to get in the bed that we realized there were no sheets or pillowcases. (Do not rent a cabin called "Lo Maximo" from Eduardo in Punta del Diablo.)
We learned about the lack of towels after washing Zelda's scraped knee (which Ian captured beautifully in the photo above).
We currently have a two-stage solution to post-shower drying. Stage 1: We wipe ourselves semi-dry with cleaning/dish rags that we found at a local market. (Man do these rags slough off a lot of fuzz, and they are a bit water repellent…) Stage 2: We whip out my teeny tiny hair dryer and blow dry our bodies.
These two stages get us to a slightly tacky/sticky state, which is when we know it's time to get dressed!