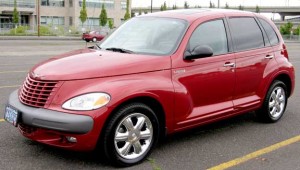 It has always been our intention to sell the cars before we left!
Unfortunately, for the same reason it is good to be getting out of the real estate market at the moment, it is bad to be selling a lower mileage vehicle (read: minivan). *Sigh*
Where oh where have the home equity lines of credit gone so people can buy a new car?
On the bright side, we have the PT cruiser all detailed out and it looks great. Hard to believe this car is over six years old. Of course, it goes to show you how nice a car can look if you never drive it and deem it the "No Kid, No Snack" car!